Adopting a Long Haired Cat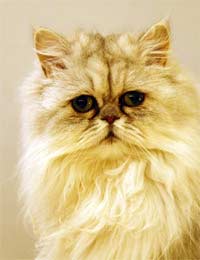 Everyone is familiar with the image of a long haired cat, looking graceful and groomed. Keeping a cat in this condition, however, is not without its challenges. If a long haired cat is not well looked after, its coat can become matted and this can cause the cat discomfort.
Looking after a long haired cat is a big commitment which families, who are considering adopting a rescue cat, need to take into account. Long haired cats naturally also shed longer hairs than shorter haired cats and this can be an issue as this can trigger allergies as well as presenting a challenge when keeping a house clean.
Care of Long Haired Cats
Long haired cats require extra care. Unlike short haired cats who are able to groom themselves, long haired cats often require a little extra help. This can range from occasional grooming through to daily grooming depending on the cat and its coat. If a cat has been groomed since it was a kitten, it will be used to being handled and will enjoy the quality time with its owner. If a cat is unused to being groomed, however, it can react badly and this can make grooming a stressful time for all concerned.
The grooming will remove dead hair and debris from the cats coat. Removing this will help to stop the coat from getting matted. It will also stop the cat from swallowing the hairs and debris that can cause hairballs. Long haired cats will rarely, if ever, require washing.
Grooming Equipment
Very little in the way of specialist equipment is required to groom cats successfully. The main items include:
Soft brush – a brush is the main piece of equipment required, it should be soft so as not to scratch the cat's skin
Long toothed comb – a long toothed comb is useful for combing out large pieces of debris or other items from the cat's coat
Grooming mitten – this is a good alternative to a brush and is useful for cats who do not like to be groomed with a brush or comb
Issues to Consider Before Adopting a Long Haired Cat
Before adopting a long haired cat from a rescue centre or shelter, it is useful to consider the following:
Many long haired cats are in shelters because their owners could not look after them properly. This means that they might not be used to regular grooming.
Daily grooming is likely to be necessary. While a grooming session needn't last longer than a few minutes, if it is done daily, this is still a time commitment that needs to be considered.
Long haired cats will shed their long hairs on furniture and carpets, meaning that extra cleaning might be required.
The coats of long haired cats make them unsuitable for many people with allergies to fur.
Finding Long Haired Cats for Adoption
Many rescue centres have long or semi-long haired cats for adoption. Long haired cats in many rescue centres are not pedigrees and are often known as domestic long haired cats. There are special rescue centres that specialise in the care and rehoming of long haired cats, although these typically focus on pedigree long haired cats such as Persians.
Rehoming centres will look for new owners who are knowledgeable and experienced with long haired cats and are able to give them the time that they require to keep them in good condition.
A long haired cat can make a loving and beautiful pet. In order to keep them in great condition, however, it is important that a family is prepared to give the cat the time that is required to keep the cat and his coat in good condition.
You might also like...