Questionnaire: Are You Ready to Adopt a Dog?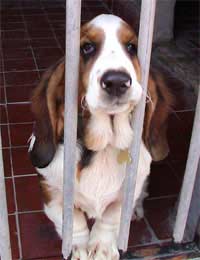 Before adopting a dog from a rescue centre or shelter, it is vital to make sure that you have considered all the different aspects and issues. A rescue centre or shelter will look for evidence that you are fully prepared and ready to adopt a dog. The questions below will help you decide whether the time is right for you to proceed.
1. Are members of the household home during...
(a) Most of the day
(b) Just before and after work
(c) Rarely – we are away from home for many hours at a time
2. Are you or others in the household able to exercise the dog...
(a) Twice a day every day
(b) Most days
(c) As and when we can
3. Is your idea of walking a dog...
(a) Heaven – I love walking and will look forward to having a companion to join me
(b) A necessary evil – I will if I have to
(c) Putting him outside and letting him run around a bit
4. What will you do if the adopted dog has behaviour issues or has difficulty settling in?
(a) I have written out an integration plan to help the dog settle in, this includes dealing with any behavioural issues
(b) We'll deal with them if and when they arrive
(c) It's a dog – he'll sort himself out
5. Can you afford to feed a new pet?
(a) Yes, I have factored in food bills to our family budgets
(b) Yes, if we cut back on other things
(c) He'll eat a bit of dog food – how much can it cost?
6. Can you pay for unexpected vet bills?
(a) We will insure our pet
(b) We'll pay for any treatment as it happens and hope our dog is healthy
(c) If the dog is sick we'll take him back to the rescue centre
7. Are you able to spend the time settling your new dog into the home
(a) Yes, we appreciate that we'll need to spend extra time with him
(b) If we need to
(c) We've five minutes to introduce him to the kids – what else is there?
8. Will the additional housekeeping, such as tidying and cleaning, be a problem?
(a) I am prepared for cleaning up after muddy paws and vacuuming dog hairs from carpets and furniture
(b) I am very house proud, I'm not sure how I will cope
(c) The dog won't be allowed to get on furniture or on the best carpets
9. What about if the dog breaks his house training?
(a) We'll introduce a training plan to get him back on track
(b) I'll ring the vet, he'll know what to do
(c) He'll go straight back to the dog's home
Mostly A
You are obviously well prepared for adopting a dog from a rescue centre or shelter. You will make great and loving owners for an adopted dog and your dog is likely to become a loving and loyal pet. You are also very aware of the commitments and responsibilities of pet ownership.
The early preparation that you have undertaken means that you are going to be well equipped to face the different eventualities if and when they arise. This will help to make adopting a dog relatively stress free for all concerned.
Mostly B
While it is apparent that you like the thought of adopting a pet, a little more thought might be useful to help to determine whether now is the right time or whether you do really want to commit the time to an adopted dog that might require a little extra care. The additional financial commitment is also a key factor to consider as this can be a substantial expense over time.
An adopted dog will make a wonderful pet, and perhaps a little extra research and thought will help you to decide whether this is the right pet for you.
Mostly C
Before progressing it might be a good idea to research the issues of adopting dogs from rescue centres and find out more about what you might expect. Adopted dogs require a little extra commitment and care. When a dog is adopted from a rescue centre it is not rehomed 'on approval' and while a rescue centre will accept dogs back again, it is neither fair on the rescue centre or the dog if the dog is returned because the new family have simply changed their mind.
Many rescue centres will ask the types of question above as part of the adoption process. It is important to consider all the issues before embarking on the process.
You might also like...