Looking After a Rescue Dog With Behaviour Difficulties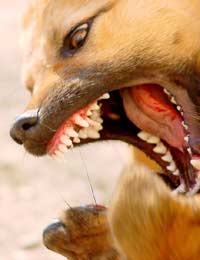 Many rescue dogs adapt well to being adopted and soon become a well behaved and much loved member of the family. Other dogs, however, for many different reasons have behaviour problems that can make them a challenge to look after.
Many of these behavioural traits can be dealt with through firm handling and a good training program. Some problems, however, are deep rooted inside a dog and may be harder or in fact impossible to eradicate. Understanding and recognising behaviour problems is often part of the challenge. Even if a behaviour problem persists, there are many ways of working around it to ensure that the dog remains an important part of the family. Sometimes accepting a problem and working with it is the happier solution.
Keeping a Behaviour Diary
The background of many rescue dogs is unknown, therefore it can be difficult to pinpoint the cause of bad behaviour. A useful way of identifying behaviour patterns is to keep a diary. After a while this should pinpoint any behavioural trends and this will help in understanding the problems and developing a solution.
Emerging patterns may show that a dog is more badly behaved after he has been left on his own, met strangers, been shut in a room or any number of other reasons. Some of his fears may have deep roots to his earlier life and this is a good way of identifying them.
Types of Behaviour Difficulties
There are many different types of behaviour difficulties that a rescue dog will exhibit and these include:
Breaking house training – often when a male dog breaks his house training he is marking his territory. This is more common in dogs that have not been neutered, however it is not unknown in neutered dogs. Both male and female dogs can break their house training if they are feeling nervous or insecure.
Aggression to other animals – a rescue dog may sometimes show aggression towards other animals. He may, for instance, chase cats or growl and bark at other dogs. Rescue centres often identify dogs with this personality trait and recommend that they are housed in homes without other pets. While a dog socialising program will help get him used to other dogs, owners should never leave him with other animals unsupervised.
Destructive behaviour – dogs occasionally exhibit destructive behaviour. This can include chewing or damaging furniture and other items. Dogs often do this when they are on their own and this can be a significant problem. Part of the reason why a dog does this is insecurity and the problem is sometimes solved when the dog gets used to his owners coming home to him. Sometimes, however, the problem is insurmountable. Using a dog crate is often a good solution as this provides a dog with a safe environment when he is left on his own with no opportunity for destructive behaviour.
Seeking Reassurance
Many aspects of bad behaviour stem from a dog being unsettled and nervous. It might be that he was mistreated before coming to his new home or is simply unsettled after yet another upheaval in his life. Often, giving a rescue dog lots of love and reassurance can help him settle into his new home and stop some negative behaviour.
Looking after a dog with behaviour problems can be a challenge, however it can also be a very rewarding experience.
You might also like...