How to Rehome an Unwanted Cat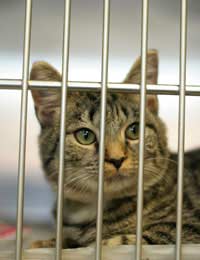 Knowing how to rehome a cat is an important part of pet ownership. While all pet owners hope this is something that they won't need to face, knowing how to is helpful should the time come when a cat can no longer be cared for. There may be other times when helping another person rehome a cat is required and being able to give support at this difficult time is extremely useful.
Why Rehome a Cat?
There are times when sadly much loved cats can no longer be cared for. There are many reasons for this, a family might move to a new home that is unsuitable for cats or a family's circumstances might change. Older people sometimes find that they are no longer able to look after their pet as they would wish. Recognising when a cat can no longer be cared for and knowing how to rehome him is a responsible part of being a pet owner. Organisations and pet welfare centres, such as the RSPCA, will not judge a family because they can no longer look after a pet, instead they will recognise the difficult decision that has been made and help people through this difficult time. Pet welfare organisations will never put someone under pressure to keep a pet that they can no longer look after.
Finding a Suitable Rescue Centre
There are many different types of rescue centre in the UK. These include national organisations such as the RSPCA through to small, independent local animal shelters. Some centres specialize in different things, for instance some prefer to look after and rehome dogs whereas others rehome just cats. One of the best ways to find a rehoming centre is through word of mouth. Many people are delighted to share their experience of a rescue centre or animal shelter. This can be a great way to get a better insight into different organisations. A local vet will be also have information about rescue centres and shelters.
Important Information to Provide
When a cat is to be rehomed, the new family will welcome as much information as possible about their new pet. Therefore it is important to provide the centre with information such as the cat's date of birth, what vaccinations he has had, details of any illnesses, how the cat reacts to other pets and children and what his main likes and dislikes are. Anyone looking to rehome their much loved pet will want to be assured that he is going to a loving home where he will have a long and happy life, and therefore giving as much information as possible to the rescue centre will help a cat find a suitable new home into which he quickly integrates.
Alternatives to Rescue Centres or Animal Shelters
There are alternatives to rehoming a cat through a rescue centre or animal shelter. Adverts placed in local newspapers, in the windows of newsagents or at the vets can sometimes find a family that is looking to give a home to a cat. One important thing to consider, however, is that reputable animal rescue organisations such as the RSPCA interview prospective adopting families and carry out home visits. This provides an additional piece of reassurance when someone is looking to rehome a cat.
The most important thing to remember when rehoming a cat is that this is part of being a responsible pet owner. Rehoming a pet when it can no longer be looked after properly gives a much loved pet the opportunity for a long and happy life.
You might also like...
I have just been told I have got copd I gave a Turkish van cat he's ginger and white nice big cat only likes whiskers wet meet and whiskers biscuits I do how ever need to fine him a home as it's affecting my breathing if you are interested plz call my mobile 07864091826 carry box bed lots of cat food all free to whoever wants him he's called rocky
Rocky
- 29-Sep-17 @ 8:26 PM
Hi i have 2 cats i need to rehome.one is a white female15yrs old and an indoor cat. The other is around male 7yrs black and white. Both have been neutered. They are loving cats but are suffering due to my depression and anxiety. Would like for them to go to loving homes with people who will spend time with them.
Sonnut
- 26-Sep-17 @ 2:21 PM
It is with great sadness I seek help in re homing my two 14 year old cats. They are from the same litter, one ginger and one black with a white bib. Both friendly, like to be stroked and picked up and settling on laps. Neutered and inoculated. Please help I need to rehome them within the next four weeks
Flower
- 26-Sep-17 @ 9:58 AM
Good Morning, I have two cat that need rehoming due to unforeseen circumstances. I have a female tabby called Marley she is 2 years old. She is very small and petite and people always think she is a kitten . She is mild mannered and will either sit on your lap or do her own thing. She is happy inside or outside. We also have a black and white male cat who is 1 years old . His name is Oreo . He has been neutered and micro chipped. He is happy just cuddling up on his own or with Marley. He will let you know when he wants attention. Again he's happy either outside or inside. They both eat any brand of food as long as it's gravy based.
Redzindie
- 26-Sep-17 @ 7:37 AM
I have a black male cat has been spayed.Hes old at 10 and a half years.I am moving into a top floor flat and am not allowed to have a pet.I have tried numerous cat rescue centres some can't take him and some have a list of many months waiting time.Its hard for my cat and myself but I have no alternative but to move into my new home. My family don't want a cat.I am now asking for any one out there who can care for him. He is very much an outdoor cat but does like to be in at times especially when its really cold.I had thought of this before my move but I am having no luck.I just dont know what to do next. Any advice would be appreciated too.
ninetyone
- 11-Sep-17 @ 9:04 PM
Could anyone out there in the Tamworth area take in an elderly cat please (16yrs) as I'm having a nervous breakdown and can no longer care for her.
Tabby
- 6-Sep-17 @ 3:25 PM
Help as I need to find somewhere tonight for my kittens as I canno longer look after my two brothers. I've had them microchipped and had all their injections, flead abc wormed.Disability and having to move again and as they're brothers obviously need to be kept together bug my current place which we've only just moved into is way to small for them as they play and fight a lot and r usually very energetic that the space is just st too small and with another move looming as the council placed us in a very unsafe place that they've agreed that I need to b moved to more suitable accommodation that is safe and at the he moment is not safe. Please can anyone help. Will provide all new scratches and toys and everything if theirs down to a posh toilet snd they r 2 black 5 month old kittens. Please help urgently
Shanks
- 2-Aug-17 @ 9:40 PM
I need to get rid of my car as moving tomorrow
nicki
- 1-Aug-17 @ 6:24 PM
I have a 10 month old cat that needs a new loving home due to myself having health issue and not being able to look after her. Very friendly and great with all ages.
jay
- 30-Jul-17 @ 11:13 AM
I have 2 beautiful cats I've got to rehome as I'm ill and can't look after them any more Poppy is 2 black n white shes a lap cat Pebbles is 3 n ginger she love go go out I go in hospital on Monday for 1month because of my illness so I need help asap please can anyone help me feeling very heart broken x
Tina Davey
- 22-Jul-17 @ 9:40 AM
I have to cats brothers about 4 years old , well look after , great with kids. I've sold my house because a marriage break up and my ex said she was taking them for the kids, however she has changed her mind. Because I'll be renting I can't keep them.
Simon
- 19-Jul-17 @ 9:02 AM
I have a 5 year old cat who needs a very special home. Seeking a kind,caring, patient and loving person to rehome my rescued cat Mai Mai. Due to a change in circumstance I cannot look after her and provide the loving home she needs. Mai is an indoor cat, never been outside due to previous owners living three floors up in a flat. She does not get on with other cats and has never met a dog in her life. She can be very feisty but given time and patience she can be very loving, on her terms. Mai would be better with a small family as she does not like a lot of noise and no children. We seek someone with cat experience and a calm nature with a lot of patience. Not asking a lot then!!
Charlie
- 4-Jul-17 @ 11:18 PM
Please help I am desperate to rehome my Nan and grandad cat unfortunately my Nan and grandad have passed away within 5 weeks off each other the funeral is on Friday for my grandad and the council are pushing for the property back and we have been trying for almost a month now when my Nan passed I have tried every organisation I can think off and are now getting desperate I have tried friends family and colleagues and don't know what to do anymore.
mel
- 20-Jun-17 @ 4:33 PM
Hi there it's sad to say but I have two cats one male one female the female cat is call tiggywho is a tabby I have her for over10 years now and the male cat was born end of October 2016 his name is poppy a black and grey catthey get on well together the male cat has got all his injections and also microchip as I can't keep them both I would love for them to have a new home for both together as they are well together it's sad to give them away but I have no choice just a loving home for my cats
Phill
- 3-Jun-17 @ 3:58 PM
Have a seven month old white female cat.she belongs to my grandaughter who now lives with me. Our other cat Loki hates her .poor Loki is spending more and more time outside.it's not fair on her poor thing.we have a dog too so she is used to dogs and other cats .she like cuddles and is very playful.she has not been neutered as cant afford it.am disabled so neex help asap.
Carol andrews
- 25-May-17 @ 11:11 AM
We have the most lovely small black & white kitten called Bella. We got her in December so she is now 6-7 months old. We have always had cats and never had a problem before but my older cat keeps attacking lovely Bella. We have tried everything but to no avail and I have now been advised to rehome her to stop her getting attacked. We live in Somerset. She is the most loveliest friendly kitten but is scared now of my other cat. I just want her to have a loving home.
Rach
- 15-May-17 @ 3:43 PM
I have a cat that needs to be re homed as it keeps going for my 3 year old little boy and myself
@Bita - a cat is not just for the easy times - you have to take the rough too. I don't understand how people can just discard animals because of an issue that can be resolved. Ask the vet what to do, contact the owner and ask them to the neuter the cat, if the cat is stray ask the RSPCA or local cats home to neuter it, you can also buy sprays that will discourage the other cat.
Angry from Sussex
- 22-Mar-17 @ 2:39 PM
I have a chatty indoor cat , she is really lovely but as a Tomcat in our neighborhood sprays by the entrance door and stimulates my cat wee on the doormat. We have no time to spend on this issue. She is 14 years , long haired black and whit cat, chatty and lovely. she is fine with living with other cats, neutered. Please contact me if anyone is interested. We live in Wokingham-Berkshire.
Bita
- 22-Mar-17 @ 1:01 PM
Please help i have to beautiful cats needing a new home as moving to shealtered flat so thy not allowed please help urgent Reenie
Reenie
- 17-Mar-17 @ 10:25 AM
Urgently need a home for my two elderly cats. Make and female. Both neutered. Moving from a house to a flat. Wv6 0tn area
Sammi
- 14-Mar-17 @ 1:22 PM
looking at rehoming my 8 month female cat just found out my 5 year old daughter is allergic to her sad to let her go ??
chrissy
- 14-Mar-17 @ 1:52 AM
I have 3 cats but 2 of them were my ex partners. I have kept them for her for 8 months only for her to turn round now and say she can't take them. I would love to keep them all but I genuinely can't afford too. Im only on unemployed and over half my money (before gas, electric, food for me and other bills) goes on cat food. Im keeping 1 of them and they have all been snipped. The 2 older are un-identical twin Brothers who will be 4 on September 17th. They are both very nice and attentive. These are not cats that ignore you till they want something these constantly need and want affection. Email for more info
Jill
- 17-Feb-17 @ 4:31 PM
Need Urgent help, to home a beautiful female long haired tabby cat, as my mother-in-law is 89 this year and will be moving in with me and my wife so we can take care of her, as we already have cats and they will not get along as we have tried and they fight so had to seperate them. Dartford area.
Hi I need to rehome my 2yrs old cat called George due to go in a care home environment because of mobility problems
George
- 26-Dec-16 @ 9:31 PM
I'm looking to rehome my 2 cats, 1 boy 1 girl, due to my little girl being alergic to cats. Would like them to be rehomed together. They are 5 years old and are loving cats. Good with children but not sure with other animals as never been around any other animals
Nat
- 8-Dec-16 @ 12:35 PM
I urgently need to rehome my pet cat as I am unable to care for her any longer. Have a little one now n was thinking of rehoming her when she started having seizures. We have her on medication but cannot afford further treatment. Please let me know if you can provide urgent help as shes not well. Thanks
Ish
- 29-Nov-16 @ 12:23 PM
I need to urgently re home my beloved cat of 4yrs. My husband has had a allergic reactio hives etc for the last 3yrs and has just been diagnosed with cat dander allergy! We have no choice but to re home him asap! He is a black and white 4yr old neutered male .
Jane
- 9-Nov-16 @ 4:34 PM
We inherited a 5 years old healthy female tabby cat following the death of her owner.She is friendly and affectionate to humans but unfortunately she does not get on with our other cats and they fight constantly. After many months of trying to accommodate her, we have come to the reluctant conclusion that we need to find her an alternative good home.Can anyone out there help?We live in Altrincham, Cheshire.
i have a black and white cat male,he has been nuted,about 5yrs old,i need to give him up because i just cant afford too keep him any more.So please can you help me?
buddy
- 3-Oct-16 @ 7:05 PM