How to Rehome an Unwanted Cat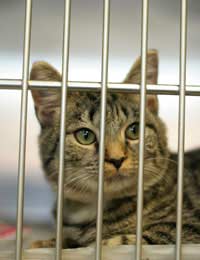 Knowing how to rehome a cat is an important part of pet ownership. While all pet owners hope this is something that they won't need to face, knowing how to is helpful should the time come when a cat can no longer be cared for. There may be other times when helping another person rehome a cat is required and being able to give support at this difficult time is extremely useful.
Why Rehome a Cat?
There are times when sadly much loved cats can no longer be cared for. There are many reasons for this, a family might move to a new home that is unsuitable for cats or a family's circumstances might change. Older people sometimes find that they are no longer able to look after their pet as they would wish. Recognising when a cat can no longer be cared for and knowing how to rehome him is a responsible part of being a pet owner. Organisations and pet welfare centres, such as the RSPCA, will not judge a family because they can no longer look after a pet, instead they will recognise the difficult decision that has been made and help people through this difficult time. Pet welfare organisations will never put someone under pressure to keep a pet that they can no longer look after.
Finding a Suitable Rescue Centre
There are many different types of rescue centre in the UK. These include national organisations such as the RSPCA through to small, independent local animal shelters. Some centres specialize in different things, for instance some prefer to look after and rehome dogs whereas others rehome just cats. One of the best ways to find a rehoming centre is through word of mouth. Many people are delighted to share their experience of a rescue centre or animal shelter. This can be a great way to get a better insight into different organisations. A local vet will be also have information about rescue centres and shelters.
Important Information to Provide
When a cat is to be rehomed, the new family will welcome as much information as possible about their new pet. Therefore it is important to provide the centre with information such as the cat's date of birth, what vaccinations he has had, details of any illnesses, how the cat reacts to other pets and children and what his main likes and dislikes are. Anyone looking to rehome their much loved pet will want to be assured that he is going to a loving home where he will have a long and happy life, and therefore giving as much information as possible to the rescue centre will help a cat find a suitable new home into which he quickly integrates.
Alternatives to Rescue Centres or Animal Shelters
There are alternatives to rehoming a cat through a rescue centre or animal shelter. Adverts placed in local newspapers, in the windows of newsagents or at the vets can sometimes find a family that is looking to give a home to a cat. One important thing to consider, however, is that reputable animal rescue organisations such as the RSPCA interview prospective adopting families and carry out home visits. This provides an additional piece of reassurance when someone is looking to rehome a cat.
The most important thing to remember when rehoming a cat is that this is part of being a responsible pet owner. Rehoming a pet when it can no longer be looked after properly gives a much loved pet the opportunity for a long and happy life.
You might also like...
I have a 2 year old black cat, a boy named pepsi, needs rehoming as I have become allergic since being pregnant and the smell of cat pee/poo is making me sick, he loves kids and attention, not sure what he's like around other cats as he's a house cat, does not like the hoover loves cat lasers and toys please message me on 07711141122 thankyou x
Annie
- 16-May-19 @ 6:05 PM
I have 3 cats and 1 kittens that 5 months old and 3 kittens that are 4 weeks old I need to rehome them as the cancill have said they have to go allso I am moving and I cannot take them with me as new cancill do not allow pets at new house so need to go ASAP i very sad that they have to go put can't do any think about it
N/A
- 14-May-19 @ 10:15 AM
Hi i need to rehome my 2 black and white toms,both are lovely and affectionate but very nervous,one is neutered and both are cuddly furbabies it breaks my heart but we have to move and the landlord will not allow pets please contact 07463859156
Jan
- 22-Apr-19 @ 12:38 PM
I have one male cat he's 2yrs old but need to have him rehomed as my 5yr old has a fear of cats and having to keep him in dining room need him to go to a loving home as it's not fair on him he's being chipped and had all his injections he's had snip at the moment he's got staples in belly due to he went out and got caught on barb wire he's under a vet
Ade
- 29-Mar-19 @ 10:52 AM
I have one male cat he's 2yrs old but need to have him revoked as my 5yr old has a fear of cats and having to keep him in dining room need him to go to a loving home as it's not fair on him he's being chipped and had all his injections he's had snip at the moment he's got staples in belly due to he went out and got caught on barb wire he's under a vet
Ade
- 29-Mar-19 @ 10:51 AM
Hiya I'm looking to re home my two cats one female one male unable to keep them due to my job away a lot would need to go to a loving home 07947847149
Natp
- 20-Mar-19 @ 8:43 PM
Hi I have a 7 year old outdoor male blue cat I need rehoming sadly we have been advised to from my husband's doctor as he is allergic, he would be more suitable in a child free house as he does not like my grandchildren, from Newcastle upon tyne
Crull
- 11-Feb-19 @ 3:25 PM
O have three adult cats and two kittens I need to re home as I am not allowed them anymore any interest please message me
Louise Villiers
- 18-Jan-19 @ 9:10 AM
I am looking ro rehome our lovely boy Oliver. We have had him for 8 years. He is approx14 years old (he was a rescue cat) we sadly cannot take him to our new home. He is a lovely old boy, he spends most of his time snoozing and doesnt go far from the house. He would suit a family with none or older children. we need to make sure he goes to a loving home. Herefordshire area
Tanifoz
- 21-Dec-18 @ 12:20 AM
I have a 8 month old male cat called Oliver we need to find him a new home as he is not getting on with my two year old and scratching and biting her face. He's a lovely boy but my daughter is very feisty and won't leave him alone. 07596148600 Shropshire area
Claudia Heath
- 10-Dec-18 @ 6:15 PM
I have to find new homes for my 3 11 month old cats, 2 boys 1 female Ifeel they would be happier separated as they fight a lot, my job keeps me away from the house for very long hours every day and I feel so guilty that they have hardly any interaction from me If anyone can help please get in touch Thank you Lisa x
Lisa
- 29-Nov-18 @ 8:59 PM
I have 3 kitten that i need to rehome if anyone can help me that would be great they are 4 months old and they belonged to a friend that sadly passed away i can no longer have them as my 5 year old son with autism keeps pulling them about. It not fair on them
Soph
- 27-Jul-18 @ 9:53 PM
@Tilly - there must be an underlying reason why she has become aggressive if she was not previously. In what way is she aggressive? Does she attack you? How does it manifest itself? She might be ill, in pain, or something.
LynnB
- 19-Jul-18 @ 10:10 AM
I have a 3yr old feral female cat,, she had kittens 3months ago i have a male cat who has been done & the kittens have gone to new homes,, she has become very aggressive & i can't cope with her i have anxiety & im not comfortable around her anymore i really need to find someone to take her,, help me please
Tilly
- 18-Jul-18 @ 10:18 AM
I have two female cats need to go together,they are tortoise shell 2 years old very friendly,unfortuantly my dogs are terrorising them 07754949916 if you can help
Charm
- 4-Jun-18 @ 10:38 AM
We need to rehome our 11 year old female cat gizzy she's neutered and has a lovely nature and would make a lovely companion. We are unable to take her to our new home as they don't allow pets and we would rather her go to someone who will look after her. We just want to know she'll be ok. We are moving from North Tyneside in 3 1/2 weeks.
Peaky
- 19-May-18 @ 6:28 PM
We have 2 cats that need a new home ASAP 1 is male and the other female, please can you help as they need to be rehomed within the next week
Stroud
- 18-Feb-18 @ 2:01 PM
I would really like to find a new home for my cat. Recently split up with my wife and therefore nobody is home to look after him. I work 12 hours a day 7 days a week and can't leave him in house all day Xmas is coming and it is very cold. I don't want any money just need him to be looked after like he deserves. Please contact me on 07958571511 and we can arrange for you to collect him He is 6 years old
Tony
- 3-Dec-17 @ 11:31 AM
I very much need to regime my 2 older cats 10 and 11 mother and sun they are very loved and loving and the boy very intelligent and loves a cuddle.I have asthma which was adult onset and was told during an attack that my cats are causing my symptoms to get worse.They need a lovely home ideally together but I'm sure they'd also thrive well separately
Vee
- 30-Nov-17 @ 2:05 AM
@Lee 1 - can't anyone in your family take them? People don't think it through when they get pets and then have to abandon them. Perhaps you could put a post on Facebook to see if someone local can take them - it really is sad. The rescue homes are way too full of unwanted and abandoned cats :(
LoriB
- 24-Oct-17 @ 3:54 PM
I am messaging on behalf of a family member. We are trying to find out information on rehoming cats. He has recently seperated from a long term partner, together they had 2 male cats. Unfortunately now, one has moved to a rental property where no pets are allowed and he works away and cannot care for the cats. He has contacted several homes with now with no one able to provide any help. We are concerned for the welfare of of the animals as theyou are soon likely to be left uncared for when he returns to work and no one else is able to provide any help.
Lee 1
- 24-Oct-17 @ 10:31 AM
I have just been told I have got copd I gave a Turkish van cat he's ginger and white nice big cat only likes whiskers wet meet and whiskers biscuits I do how ever need to fine him a home as it's affecting my breathing if you are interested plz call my mobile 07864091826 carry box bed lots of cat food all free to whoever wants him he's called rocky
Rocky
- 29-Sep-17 @ 8:26 PM
Hi i have 2 cats i need to rehome.one is a white female15yrs old and an indoor cat. The other is around male 7yrs black and white. Both have been neutered. They are loving cats but are suffering due to my depression and anxiety. Would like for them to go to loving homes with people who will spend time with them.
Sonnut
- 26-Sep-17 @ 2:21 PM
It is with great sadness I seek help in re homing my two 14 year old cats. They are from the same litter, one ginger and one black with a white bib. Both friendly, like to be stroked and picked up and settling on laps. Neutered and inoculated. Please help I need to rehome them within the next four weeks
Flower
- 26-Sep-17 @ 9:58 AM
Good Morning, I have two cat that need rehoming due to unforeseen circumstances. I have a female tabby called Marley she is 2 years old. She is very small and petite and people always think she is a kitten . She is mild mannered and will either sit on your lap or do her own thing. She is happy inside or outside. We also have a black and white male cat who is 1 years old . His name is Oreo . He has been neutered and micro chipped. He is happy just cuddling up on his own or with Marley. He will let you know when he wants attention. Again he's happy either outside or inside. They both eat any brand of food as long as it's gravy based.
Redzindie
- 26-Sep-17 @ 7:37 AM
I have a black male cat has been spayed.Hes old at 10 and a half years.I am moving into a top floor flat and am not allowed to have a pet.I have tried numerous cat rescue centres some can't take him and some have a list of many months waiting time.Its hard for my cat and myself but I have no alternative but to move into my new home. My family don't want a cat.I am now asking for any one out there who can care for him. He is very much an outdoor cat but does like to be in at times especially when its really cold.I had thought of this before my move but I am having no luck.I just dont know what to do next. Any advice would be appreciated too.
ninetyone
- 11-Sep-17 @ 9:04 PM
Could anyone out there in the Tamworth area take in an elderly cat please (16yrs) as I'm having a nervous breakdown and can no longer care for her.
Tabby
- 6-Sep-17 @ 3:25 PM
Help as I need to find somewhere tonight for my kittens as I canno longer look after my two brothers. I've had them microchipped and had all their injections, flead abc wormed.Disability and having to move again and as they're brothers obviously need to be kept together bug my current place which we've only just moved into is way to small for them as they play and fight a lot and r usually very energetic that the space is just st too small and with another move looming as the council placed us in a very unsafe place that they've agreed that I need to b moved to more suitable accommodation that is safe and at the he moment is not safe. Please can anyone help. Will provide all new scratches and toys and everything if theirs down to a posh toilet snd they r 2 black 5 month old kittens. Please help urgently
Shanks
- 2-Aug-17 @ 9:40 PM
I need to get rid of my car as moving tomorrow
nicki
- 1-Aug-17 @ 6:24 PM
I have a 10 month old cat that needs a new loving home due to myself having health issue and not being able to look after her. Very friendly and great with all ages.
jay
- 30-Jul-17 @ 11:13 AM