Adopting a Cat: Essential Equipment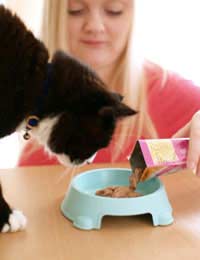 Adopting a cat from rescue organisation can be a very rewarding experience. Before bringing the new cat home, however, there are a few essential items of equipment required. Getting these items in place before the new cat arrives will help to settle him into the new home while also making life easier for all members of the household. These items include:
Food
Food plays an important part in a cat's life and making sure that a new cat is well fed will help to integrate him into his new home. The rescue centre is likely to advise that to start with, the new cat is fed on food that he is already familiar with. This is because the cat is likely to have had some upheavals in his life and as such, keeping a constant diet will help give continuity to him as well as helping to ensure that he doesn't suffer from any of the ailments that a sudden change in diet can cause.
Discussing a cat's diet with the rescue centre before bringing him home will ensure that there is plenty of time for planning and purchasing the necessary food. Over time, his food can be changed and this is best done by gradually introducing new food into his meals.
Cat Litter Tray
A cat litter tray is an absolutely essential piece of equipment for when introducing new cats into a home. A new cat will need to be kept inside for a few days so that he can become acclimatised to his new surroundings and his new family. Even if the cat is eventually going to be allowed to go outdoors, having a cat litter tray in place for the early days will be necessary. If an adult cat is being adopted, the chances are that he will be used to using a litter tray.
Cats are generally clean animals and hopefully it will simply be a case of introducing him to the new litter tray. While there are many fancy and sophisticated litter trays available, it is best to start a new cat with a basic tray. This is because this is likely to be what he has been used to and he may be nervous of litter trays that he is not familiar with. The cat litter tray should be placed on sheets of old newspaper. This is in case the cat scatters cat litter when he is getting into or out of the litter tray. Therefore a pile of old newspapers will be a very useful thing to have to hand!
Bed and Bedding
A bed is very important to rescued cats. Placing this in an area where he can feel safe and secure will help him to feel comfortable in his new home. Cats enjoy sleeping in boxes and while they also like to be able to see out, the security of the walls helps them relax. A simple cardboard box could be used as a cat bed, with one side cut away so that cat can easily see out. Lining this with old blankets or towels will make a soft surface for the new cat to cuddle into.
There are, however, many styles of cat bed available for purchase and these have different features. Some pet beds are lined with a fleecy interior and this creates a warm and snuggly atmosphere and this is particularly important for a cat who has come from a rescue centre as he will be seeking additional reassurance and miss the company of other cats.
A little forward planning can help to provide a new cat with a great start in his new home.
You might also like...
Just arrived home with two young female cats. They won't come out from under the futon.is this normal behaviour and how long before they will be comfortably purring on my lap? Is it best to leave them to familiarise themselves with their new room.
catlover
- 1-May-14 @ 5:53 PM
to cut a long story short, i have 3 cat ,1 was brought home by my son and had kittens ,this was 8 yrs ago yrs ago they all got spade or newted and the were all loved .mother and son need a some person at home regular .mother black and white son all long hair black,both well behaved .
donkey
- 24-Oct-13 @ 7:05 PM
looking to rehome my cat due to have to leave a house and stay in a flat, my cat is used to the outdoors, at the moment a family member is looking after her but cant for much longer, she has beenspayed and we have papers from the pet shop we bought her from . her d.o.b 8/7/2007. shes a short haired cat, black in colour
I have 2 cats. One is female and fixed and is about 3 years old. and I have a male that is fixed and is about 9 years old. I am really allergic to both cats and I would like if possible to have someone take them both in, They do not have to go to the same family. I would just love them to go to some good homes where they will be taken care of and watched after.
looking for a good h
- 4-Aug-12 @ 3:35 PM