Essential Equipment Required When Adopting Small Pets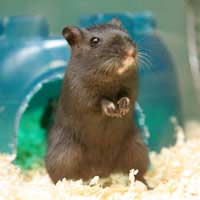 There are a few essential items that are required when adopting a small pet such as a rabbit, guinea pig, ferret, hamster or rat. These items will keep the animal safe and secure as well as providing an exercise area and a cosy place to sleep.
When adopting an animal from a rescue centre there is often time between reserving the animal and actually bringing the pet home. This is the ideal time to shop for new equipment as the specific requirement of the pet or pets will be known. Getting these items of equipment in place before the new pet arrives is important and will help it settle into its new home in a quick and stress free way. The animal rescue centre or shelter will be able to provide a list of important equipment and be able to give specific advice.
Essential Equipment for Small Pets
The important equipment that is required includes:
Cage or hutch – it is important that a small animal has a safe and secure environment for his home. There are many different types of cages and hutches available. Many of these have been specially designed for a type of animal, taking into account any special requirements. It is always a good idea to shop around and look at different types. Small pets spend a lot of time in their hutch or cage and as such it is important to buy the best possible cage that falls within a budget. Useful things to look for in a hutch or cage include:
Secure sleeping area
Easy to clean
Good access so that the pet can easily be taken out and put back
Robust construction
Exercise area or run – rabbits, guinea pigs and other small animals need an exercise area or run. It is vitally important that small animals are given the opportunity to exercise daily. Without regular exercise an animal can develop aches and pains or become unhappy. The exercise run should give the animal plenty of room for movement. This is best attached to a hutch so that the pet can decide when he wants to go out. The run should be totally secure and the animal should be unable to dig himself out.
Feeding and water – it is very important that the right type of feeding bowl and water bottle are purchased. This should take into account the type and size of an animal. The animal rescue centre will be able to advise on any specific requirements including what a pet has been used to while he has been in the centre.
Bedding and flooring – small animals need bedding to keep them snug and cosy at night. There are many different types of bedding materials available, from simple shredded paper through to specially produced bedding. Hay, straw and wood shavings are also ideal (but not sawdust). Rabbits may well nibble at straw and hay if this is used for their bedding, however this is perfectly normal and a good form of roughage for them. Old newspapers are ideal for laying on the bottom of the hutch and can help make cleaning easier.
A small animal can make a lovely pet and just a few pieces of equipment will help to give the new pet a lovely safe and secure home.
You might also like...