How to Rehome an Unwanted Cat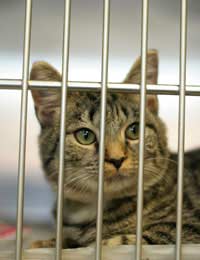 Knowing how to rehome a cat is an important part of pet ownership. While all pet owners hope this is something that they won't need to face, knowing how to is helpful should the time come when a cat can no longer be cared for. There may be other times when helping another person rehome a cat is required and being able to give support at this difficult time is extremely useful.
Why Rehome a Cat?
There are times when sadly much loved cats can no longer be cared for. There are many reasons for this, a family might move to a new home that is unsuitable for cats or a family's circumstances might change. Older people sometimes find that they are no longer able to look after their pet as they would wish. Recognising when a cat can no longer be cared for and knowing how to rehome him is a responsible part of being a pet owner. Organisations and pet welfare centres, such as the RSPCA, will not judge a family because they can no longer look after a pet, instead they will recognise the difficult decision that has been made and help people through this difficult time. Pet welfare organisations will never put someone under pressure to keep a pet that they can no longer look after.
Finding a Suitable Rescue Centre
There are many different types of rescue centre in the UK. These include national organisations such as the RSPCA through to small, independent local animal shelters. Some centres specialize in different things, for instance some prefer to look after and rehome dogs whereas others rehome just cats. One of the best ways to find a rehoming centre is through word of mouth. Many people are delighted to share their experience of a rescue centre or animal shelter. This can be a great way to get a better insight into different organisations. A local vet will be also have information about rescue centres and shelters.
Important Information to Provide
When a cat is to be rehomed, the new family will welcome as much information as possible about their new pet. Therefore it is important to provide the centre with information such as the cat's date of birth, what vaccinations he has had, details of any illnesses, how the cat reacts to other pets and children and what his main likes and dislikes are. Anyone looking to rehome their much loved pet will want to be assured that he is going to a loving home where he will have a long and happy life, and therefore giving as much information as possible to the rescue centre will help a cat find a suitable new home into which he quickly integrates.
Alternatives to Rescue Centres or Animal Shelters
There are alternatives to rehoming a cat through a rescue centre or animal shelter. Adverts placed in local newspapers, in the windows of newsagents or at the vets can sometimes find a family that is looking to give a home to a cat. One important thing to consider, however, is that reputable animal rescue organisations such as the RSPCA interview prospective adopting families and carry out home visits. This provides an additional piece of reassurance when someone is looking to rehome a cat.
The most important thing to remember when rehoming a cat is that this is part of being a responsible pet owner. Rehoming a pet when it can no longer be looked after properly gives a much loved pet the opportunity for a long and happy life.
You might also like...
Hi all, I have a 9month old kitten ready to be rehomed as I can't look after her. She's very sweet and lovely and loves attention cuddle and kisses! Call me on 07518077735 to collect her.
Sharna
- 25-May-21 @ 3:49 AM
I have a small long black /brown haired cat gorgeous personality no aggression what so ever ,loves affection she's about 7 years old , we can't keep her my daughter is allergic since we had the cat (for 7years)and the docter advised we kept the cat despite this but I now have to keep her out the house as much as possible due to my daughter (now 15)having swollen eyes And hive reaction from the cat.including asthmaWe have no idea how to rehome her ?I think she would make someone a lovely companion it's not fair on the cat or my daughter to keep her I would be greatful of someone could call me on 07736035122.Regards angela
Peggy
- 11-Apr-21 @ 5:18 PM
Hello, I have a beautiful black boy cat, he will be 1 year in august, unfortunately I can no longer care for him due to a change in family housing situations. I have given him to a family me member but they have told me they can no longer keep him. So I am having to looking for a forever home for him. I am in Leicestershire area. He is very friendly loves cuddles and fuss and is also amazing with kids I have two children under 3 and he loves them! He doesn't like dogs but gets on with other cats lovely. Please contact me for photos and if you would like to visit him. 07423767329 thanks.
Grace
- 11-Feb-21 @ 10:29 AM
Hi, I have a 10 month old beautiful female tabby cat. Her name is Paris. I am no longer able to care for her due to personal issues and would love her to find a loving forever home. She has been spayed. She loves the garden she's very quiet for a cat, only meows softly if she wants to go outside. She's not the most affectionate cat. She's more independent and likes her own space but does follow me around the house at times :) Her favourite place to sleep is at the end of my bed by my feet but only if I'm in my bed or on top of the kitchen cabinets. North London 07867584178
Bee
- 22-Dec-20 @ 12:49 PM
Hi there I have an 18 year old indoor cat. We are leaving the county to new zealand on Dec 26. I feel its unfair to put her through that journey. I've had her for 15 years and found her when she was around 4 years old. I have just tried to re home her with an older single lady but she has already given up after 24 hours. I need help. Anyone interested or can advise Thank you 07956111835 07956 111835
Nikita
- 8-Nov-20 @ 5:36 PM
I have an 18 year old cat that I need to re home as I'm emigrating end of Dec. I saw a few people interested in older cats but I'm not sure how to respond
Can't give my kitten the care he needs Due to a recent move and break up. He is 7 months old treated for fleas and wormed but not neutered. In the burnley area, 07847899316
Maz
- 1-Nov-20 @ 12:16 AM
Hi I have 3 cats I love them all very much but my older cat keeps attacking the smaller cat and sometimes bits me if I don't pay her attention I really don't want to rehome her but if this continues I may have to can someone give me some advice please thanks
Jules
- 16-Oct-20 @ 8:42 PM
Hi, i have 4years old cat. But i can't keep her anymore.. I split up with my boyfriend and he refuses to keep her at home and im living at the moment with friend which one doesn't want her. ?? She is black with a bit of ginger short hairs.
Augustina
- 9-Oct-20 @ 11:00 AM
Hi,I am currently living in a small first floor flat with a balcony in SW London, and I would love to offer a loving home to an old cat. Once Covid is over I plan to move to a larger place with a garden.I work mainly from home and I am an experienced cat owner. My parents always had cats. I used to have three cats of my own, and I have also fostered for the RSPCA. I am happy to travel to pick up the cat.
catperson
- 1-Oct-20 @ 12:16 PM
Hi I need to rehome my little man,(cat)he is 7months old, short haired and black. He is very affectionate and loves cuddles. He likes to play a lot. He plays hide and seek and likes to kick his ball about the house. The reason I need him rehomed is because I've just found out I have c.o.p.d. And also financial matters. I have been advised to rehome my cat which for me would be a lot better where my health is concerned Marshall is 7months old His birthday is on Valentine's Day Contact 07543295515
Rei
- 11-Sep-20 @ 4:00 PM
Hello I have a butiful female cat, she is sweet well behaved and loving. Bengal mixed very clever. Girl is three years old looking for her forever loving home. Fully house trained, she loves being outside. House move forces to re-home my cat. Thanks for your interest.
Blu
- 17-Jul-20 @ 7:53 AM
I have a beautiful small sweet tabby she is spayed and chipped. She is very loving but very unhappy I have a labrador that she doesn't like so won't come into the house but we have new neighbours with a dog that barks at her and an unfriendly cat that attacks her at the top if the road. She needs a loving home without threats she deserves so much more. Can anyone without dogs offer her a forever home?
molly
- 16-Jul-20 @ 8:25 PM
HI I have a nearly 7 year old cat girl named lion. I tried to take in the cat after a friends family member passed away but my youngest child is scared of her. If anyone can help please contact Donna on 07772870610 Sandwell area. Thank you
miss D
- 7-Jul-20 @ 10:01 AM
Hi, I have 3 cats that need re homing due work commitments a black and white boy, a striped girl both neutered and a ginger boy who hasn't been neutered due too covid all very loving great around children too Contact becky 07902987991 Birmingham area
Bexgriff
- 18-Jun-20 @ 12:24 AM
Hi My partner is looking for a new home for his cat we both have moved in together but I have a wee boy who is 7 and the cat is hissing n trying to attack him all the time . She is 2 but she's very unsociable and hates kids . My number is 07306 010717 please call me if anyone can give her a loving home . Thanks Gayle
Moussa
- 24-May-20 @ 9:07 PM
Trying to find somewhere to take my cat as being evicted from my home he's 17 years old, think he's a bit deaf,loves a fuss and his food but chills out most of the time cause of his age if anyone can help I'd be very grateful.
lou
- 28-Jan-20 @ 8:36 PM
I am being evicted from my home and can no longer have my cat. He's around 7 months old, fluffy, black and white and playful but timid and loves attention and cuddles! He takes a while to adjust as he was a rescue cat but once he knows you he won't stop with the cuddles! He's been neutered, regularly flead and wormed but yet to microchip him. It's sad that it's come to this but I want a loving home for him and hope to find one through this site.
I have a 7 month old kitten who is lovely and fully trained.Sadly I cant keep her as my health has deteriorated.I want Tae to find a loving home..please contact me on 07828484768 if anyone interested.Everything has been done for such as up to date injections and heath care. I will provide her with everything needed with some food too.
Ruby
- 19-Dec-19 @ 12:59 PM
Trying to find a new home for the cat iv tried taking in, he's been abandoned by a neighbour and was left to fend for himself. He's so playful and loves everyone but my own cat will not accept him. He's black and white, very long fluffy tail, beautiful deep amber eyes. Hes about 2 years old and has been neutered. Please help find this little guy a home ?? 07979000183
Laura
- 17-Dec-19 @ 8:59 AM
Trying to find a new home for the cat iv tried taking in, he's been abandoned by a neighbour and was left to fend for himself. He's so playful and loves everyone but my own cat will not accept him. He's black and white, very long fluffy tail, beautiful deep amber eyes. Hes about 2 years old and has been neutered. Please help find this little guy a home ??
Laura
- 17-Dec-19 @ 8:57 AM
Hi I have a 9 year old cat that we rescued last year, we have tried really hard but he won't get on with our other cats or the dog and we need to find him a new home. He is neutered and is ginger and white and his name is spike. He will need to go to a home with no other animals. If you can help please get in touch.
Bex
- 13-Nov-19 @ 2:33 AM
I have a 3yr old female cat neutered .loving in door cat black and white pretty little girl I need re homing in 3 weeks or less
Lynne njie
- 10-Nov-19 @ 2:18 PM
I have just been diagnosed with asthma and it's cats fur that is making me worse. She is 3 yrs old and answers to the name of figgyplease I need her rehomedasap
Val
- 25-Oct-19 @ 1:53 PM
Please can someone take my cat Jack,he is 9, very small black cat, he is very loving.I have been diagnosed with breast cancer & need to re home him as I can't care for him properly anymore. I'm in Torbay area. Please call me if you can help, I'd like to see him re homed before I start my therapy. 07843811763. Please call me if you can give him a loving home ??
I have a lovely little kitten who desperately needs a new home. I've had to suddenly move home and they don't allow any animals but they've given me a week to re-home her. She's just gone 2months old, black and white kitten. Very playful and needs a lot of attention. If interested please give me a call 07561798544 Thank you! Karolina
Karolina
- 29-Sep-19 @ 3:03 AM
I need to re-home a kitten she can't stay with me due to landlord says 1 cat only I want her to go to a loving home and she needs to be gone before 2pm in afternoon tomorrow or I'm getting evicted
Anderson
- 21-Aug-19 @ 11:44 PM
I need to re-home a kitten she can't stay with me due to landlord says 1 cat only I want her to go to a loving home
Anderson
- 21-Aug-19 @ 11:43 PM
I have a gorgeous grey and white girl cat who is 9 I need to re-home her asap as I'm going through some crisis myself and can no longer take care of her and it's not fair she needs someone who can give her the love and life I can't she has been spayed and neutered also chipped she is a shy skittesh cat that is indoor and she doesn't do well with other animals and young children not a cat that likes to much attention but a little pet here and there she is fine with please can someone give her a home 07508559571 is my number if you can give tootsie a home please
Tel
- 16-Aug-19 @ 6:41 AM
Hi, I have a lovely cat named Luna who is nearly 5 years old. She is very independent and not one for many cuddles but likes to bring you the odd gift has her talkative times. She loves to chase little red lights and fast moving toys. Not one to interact with other animals but always been great with kids. Unfortunately, due to medical reasons, I now need to have a sterile environment in the home to facilitate treatment for a family member who is moving in and due to this change in circumstances I can no longer provide the loving home this beauty deserves. She has been spayed and is up to date with her injections, bit of a fussy eater and will regularly decide she no longer likes a specific food. Will break our hearts to see her go but I need to make this decision for the sake of someones very poor health and treatment. Thanks for reading.
Sammie
- 23-Jul-19 @ 1:24 PM