Neutering Options for Rescue Pets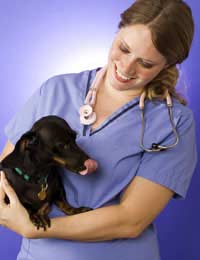 Neutering a pet animal is part of responsible pet ownership. This stops a pet from being able to breed. For male pets, this means that the animal will not be able to father a litter and for female animals this means that she will not conceive and give birth to potentially many offspring during her life.
Benefits of Neutering
Neutering a pet makes for a more relaxing life. A female pet that is not neutered will come into season potentially several times in a year. A male pet that is not neutered will want to find females who are in season. A male that is not neutered will also seek dominance of other animals and even humans. He may develop unpleasant traits such as 'marking his territory' with urine. A male that is not neutered may also become aggressive.
Neutering Options
The most common form of neutering is through a surgical process. While, as with any surgery, there are risks involved, any potential risks are generally thought to be outweighed by the significant benefits. There are alternatives to surgical neutering. Chemical neutering can be an option in some circumstances and is often recommended if a pet is unable to be surgically neutered due to health reasons. There are benefits connected to chemical neutering, the main one being the fact that it does not involve surgery, however there are also potential downsides. Chemical neutering involves giving pet hormones and this is a temporary solution. Chemical neutering can also work out to be expensive over the life of a pet.
A vet will be able to discuss the different options for neutering available and give specific advice based on the type of animal, its age and health background.
Neutering Small Pets
Small animals such as rabbits, ferrets and guinea pigs are all social creatures and enjoy the company of others of the same breed (although rabbits and guinea pigs are often housed together, the RSPCA's current advice is that they should be housed separately). If small pets are not neutered then unwanted litters may result.
Rabbits, ferrets and guinea pigs can all be neutered. This means that male and female pets can be kept together. The only alternative to neutering, if litters of young are not wanted, is to keep male and female small pets separate from each other. This can be problematic as identifying gender in young small animals can be difficult.
Very small pets such as gerbils, hamsters and mice are rarely neutered. The option with these pets is to house male and females separately to avoid unwanted litters. A vet will be able to give further advice.
Finding Further Information
If a rescue pet is not already neutered, the animal shelter or rescue organisation is likely to provide important information about neutering an animal that they are rehoming. This might also include a voucher contributing towards the cost of the operation. Occasionally there are campaigns that offer financial help and support for the neutering of pets. Some animal welfare organisations also offer financial support as well as providing more information about neutering options available. A local branch of the RSPCA can provide more information about any initiatives being run in a particular area and a local veterinary practice is another good place to find relevant information.
Neutering pets is part of responsible pet ownership. There is plenty of advice and support that can help to make the process straightforward.
You might also like...