Flea Treatments for Rescued Pets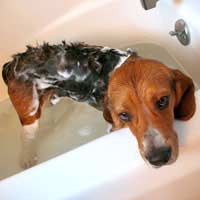 Fleas are a parasite that cause itching and discomfort in pets such as dogs, cats and rabbits. At the very best this can be a slight irritant, at the worst they can cause more serious health care problems. Tape worm eggs can also infect flea eggs which can result in a pet becoming infected with tapeworm as well. Some pets are allergic to fleas and this can cause further skin problems and a great degree of discomfort. Fleas can also bite humans and cause irritation and rashes.
Fleas can infect many areas of a home too, including soft furnishings, carpets and rugs. If a pet is taken in the car then fleas may also potentially inhabit this too. Therefore treating fleas is not just about treating the animal, it is also about treating the home and any other surroundings to avoid the spreading and respreading of fleas.
Flea Treatments and Flea Control for Rescue Pets
When pets are adopted from rescue centres they are likely to have been treated against fleas. Unfortunately, however, flea treatments are always a temporary solution and will need repeating at regular intervals. If a rescue pet comes from a rescue centre completely free from fleas, however is in contact with other animals, then it is highly likely that the pet will contract fleas.
Happily, there are many extremely effective forms of flea treatment available. The most effective flea treatments kill both the adult fleas and the flea eggs. This helps to control fleas at every stage of their life. These range from flea collars to drops or even injections. There are different formulas available depending on the type and size of the animal. The correct treatment for a type of pet should be purchased. Treatments for dogs, for instance, should not be given to cats unless under the advice of a vet.
The main types of flea treatment or flea control are:
Shampoo
Sprays
Drops or 'Spot On' Treatments
Injections
Flea Collars
Oral Treatments
The best type of treatment will be determined by a pet's lifestyle. Many people with active cats, for instance, do not like to use flea collars as they fear that the cat may get the collar caught when he is climbing a tree. An injection might be more appropriate in this instance.
Treating the House
In order to stop fleas from spreading it is important to regularly clean a pet's bedding. In addition to this the area where a pet sits or plays should also be regularly vacuumed. After vacuuming, the dust bag should be emptied. This stops the fleas from developing.
There are many flea sprays that are formulated for use in the house. These do not damage soft furnishings or woodwork. A vet or chemist will be able to give advice on the best form of household flea spray to use depending on a family's circumstances.
Picking the right flea control for a rescue pet is part of being a responsible pet owner and will help to keep the rescue pet and his home free of unwanted parasites.
You might also like...