How to Adopt an Unusual Pet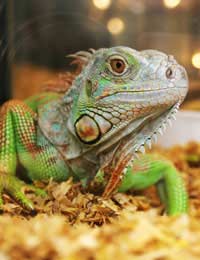 Many of the pets that are awaiting adoption in animal rescue centres and shelters are cats, dogs and small mammals such as rabbits, guinea pigs, rats and hamsters. There are many other types of animal, however, that come into rescue centres and who are looking for knowledgeable and loving homes. These range from exotic fish and small reptiles through to chickens and other poultry. Larger animals such as donkeys, goats and horses are also available for adoption.
Adopting a More Unusual Pet
When a rescue centre rehomes a more unusual or exotic pet, one of the most important things that they will be looking for is that the adopting family has knowledge and experience of dealing with this kind of animal as well as having the relevant equipment. More unusual pets may appear great fun and people may think that they would make great rescue pets, however they often require special equipment and handling. Reptiles, for instance have very special needs and should always be rehomed with people who have experience of dealing with them. People may experience problems if they adopt a pet without the right knowledge or experience.
Specialist Animal Rescue Centres
While larger animal welfare organisations such as the RSPCA have a wide range of pets and animals looking for homes, there are also specialist organisations who cater for a specific type of animal. These can be a good way to find a particular type pet or animal that is looking for a new home. These centres are spread throughout the UK and the best way to find a particular type of rescue centre is to use the Internet. There are many directories of animal rescue centres that are free to access and give details of different centres, their location and the types of animals that they have available for adoption.
Interviews and Home Visits
Many rescue centres carry out stringent interviews and home visits before they release an unusual or exotic pet for adoption. This helps to avoid future problems. They will be looking for assurance that the adopting family is prepared to look after the animal and be able to cater for any special requirements. The interview will include talking about any experiences of owning and caring for unusual pets. The home visit will entail a volunteer from the rescue centre visiting the house and looking at where the animals will be housed and talking with other members of the family if appropriate. The home visits and interviews are never onerous and are in place as much to give support to a family looking to adopt an unusual animal as they are to safeguard an animal's welfare.
Fee For Adopting an Unusual Animal
There is normally a fee to be paid to a rescue centre when a pet is adopted. This fee is set at a level which is not prohibitive, but that also contributes towards the care that an animal was given when it was in a rescue centre. This fee ranges from a few pounds through, in some instances, to several hundred pounds.
If a family is looking to adopt an unusual animal then there are often a wide range to choose from in rescue centres and shelters throughout the UK.
You might also like...