Adopting a Pet: What Do Rescue Centres Look For?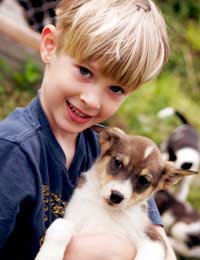 One important feature of adopting a pet from a reputable rescue centre is that before allowing a pet to go for adoption, the adopting family will need to meet certain criteria. This is normally carried out through an interview and home visit.
Why Are Pre-Adoption Checks Important?
Pre-adoption checks have two important purposes. Firstly this gives the rescue centre the opportunity to ensure that the pet is going to be cared for and looked after effectively, giving it the best possible chance of a new and happy life. Secondly it helps the adopting family to make sure that they are adopting a pet that is suited to them and their lifestyle. A pet that is adopted by a family that cannot look after it properly is likely to be returned to the rescue centre and as such it is in the rescue centre's interest to ensure that the best possible match of family to pet is achieved.
Important Requirements
The rescue centre will have a set of requirements that they will be looking for in an adopting family for every pet type. Whether it is ensuring that the family has suitable housing for a tiny mouse, or a large enough exercise area for a large dog, the requirements will be clearly stated. Each rescue centre or welfare organisation will have their own requirements, however these will generally include:
Time – does the family have the time to look after an animal properly. For instance, to clean a rabbit's hutch daily or regularly exercising a dog.
Lifestyle – will a pet fit into a family's lifestyle. This will include discussing issues such as who will look after a dog if a family are out of the house all day or what will happen to a guinea pig when the family goes on holiday.
Finances – keeping a pet can be a significant financial commitment. In addition to food bills, bills for health care can be costly. A rescue centre will also want to be sure that treatment for any unplanned sickness or injury can be paid for.
Experience – some animals require being homed with families with knowledge and experience. Welfare organisations will want to be assured that a family meets these requirements
Other pets – while introducing an adopted pet into a household with other pets needn't be a problem, the rescue centre will want to know what other animals are in the household. This will need to be taken into account when selecting a pet as some pets should be homed with families without other animals.
Rented property – in the case of families living in rented accommodation, rescue centres may also wish to confirm that the lease allows the keeping of animals.
More information about the requirements of different pets can be found on the RSPCA website.
Legal Requirement
Adopting a pet is not to be taken lightly. There is a big commitment involved and there is a legal requirement to look after the welfare of a pet. The Animal Welfare Act clearly states the responsibilities of a pet owner. More information can be found at the defra.gov.uk website.
Adopting a pet from a rescue centre is an extremely rewarding experience and one that will bring much joy to a family for years to come. Making sure that a family is fully prepared for the commitment that is required is an important part in ensuring that the pet and his new family will have a long and happy life together.
You might also like...