Introducing a Rescue Cat to the Family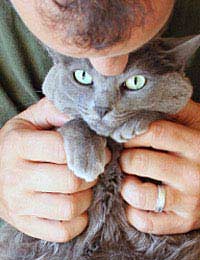 Introducing a rescue cat into his new family is a time that is full of excitement. For his new family this represents the beginning of what hopefully will be a long and happy relationship. For the cat, however, this is another upheaval in what is likely to be a stressful and unsettling time for him. Therefore, while it might be tempting to bring a rescue cat home from the rescue centre and immediately let him loose in his new house, this might upset and overwhelm him, making him nervous and scared. This can result in the cat not trusting his new owners and this in turn can lead to behaviour issues. Here are a few tips to help to successfully introduce a rescue cat to his new family.
Introducing Other Humans
Everyone is going to want to meet the new cat and give him a cuddle! What the cat will actually want, however, is a little time to get used to his surroundings and to his new family. Therefore, slowly introducing him to members of the family on a one by one basis is much better than everyone meeting him at the same time. A good time to introduce new members of the family is when putting food down. The cat will be looking forward to his food and will be receptive to meeting new people. A rescue cat may be nervous for many days and as such it is important let him make the first move for attention.
Introducing Children
Young children should always be supervised with a new cat, particularly with a rescue cat, as his reaction to youngsters will be unknown. They should also be taught not to make any sudden moves which may frighten a nervous animal. Often the background of the cat is uncertain and he may have been bullied or teased by children in the past and as such, he may be nervous and frightened. This can manifest itself in aggressive behaviour towards youngsters. The rescue centre will be able to give any information that they have about whether a cat has lived with children before and of any known problems.
One Step at a Time
It is important to remember that a cat from a rescue home is likely to have had relatively small living quarters over the recent past. This means that he will have got used to living in small spaces and to him, this represents security and safety. Introducing him to lots of people, other pets and a large house can be daunting. Therefore it is best to settle him into one room first and make this 'his' room. Allow the cat to feel safe and build confidence before slowly letting him explore other rooms and meet other pets. It is important to always make sure that he can find his way back to his safe room.
A few simple steps are all that is required to give a new cat a happy start in his new home. After a short amount of time it will feel like he has always been part of the family!
You might also like...