Helping Pets Remain with Older Owners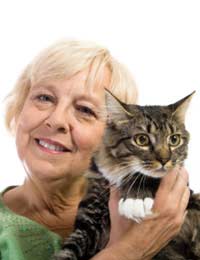 Pets give great comfort to older people. A dog or cat can be an important companion, giving unconditional love and affection. As people get older, however, looking after a pet can sometimes get increasingly difficult. Sometimes a person may become ill or housebound and find it hard to exercise or feed their pets. It is a worry for many older people that they won't be able to keep their pets if they cannot look after them. They fear that their pets may be take into an animal rescue centre or shelter.
There are many ways that people can support an older person who owns a pet and just a little extra help can make a huge difference.
Dog Walking
Walking a dog for an older person helps to give the dog his daily exercise. This can also be very enjoyable for people without pets (perhaps people too busy at work to be able to own a dog), yet who enjoy the company of a dog while walking. Dog walking can be an informal arrangement whereby someone takes a dog our for a walk when the time allows, through to a formal arrangement where the dog is walked at a set time every day. While some older people are prepared to pay for such a service, others cannot afford to do so. There may be ways that an older person can repay this service, such as keeping an eye on the house during the day when the family are out.
Shopping for Pet Food
Cat and dog food can be heavy and bulky. This makes it difficult for an older person to carry and may increase the number of shopping visits that they have to make. Someone who is housebound may find it extremely hard to get pet food. A simple service that someone can offer to older or housebound neighbours is to pick up their pet food. This is easy to do when combined with a family's normal weekly shop.
Cleaning
Although cats and dogs are relatively clean animals, their food dishes, bedding and a cat's litter tray may need regular cleaning. This will help to keep the pets healthy and also will stop the house from smelling of dirty animals.
Other Ways of Helping
There are many other ways that an older person can be helped. Many of these will depend on the circumstances, however these include:
Making a cat feeding table – for an older person who has difficulty bending down, a cat feeding table that is at a level where they can feed a cat comfortably is very useful. Cats will quickly get used to a new feeding place.
Securing the garden – if there are any gaps in a fence or wall then a small dog may well get loose. This can be very distressing for an older person. Securing the garden can help to ensure that a dog has the opportunity for lots of exercise in a secure environment.
Charities that Offer Help
The Cinnamon Trust is a charity that supports older people and helps them to keep their pets. The trust can offer a lot of advice and support including a list of care homes that accept pets.
Helping older people and their pets stay together is an important way of helping to maintain both their and their pet's quality of life.
You might also like...
Where can I get help to take my cat to the vets. I am elderly & disabled wheelchair user. Thank you.
JW
- 27-Sep-14 @ 12:02 AM
I am a 32 year old pet sitter /dog walker with many years of experience behind me. Animals are my true passion in life - so working with animals/getting paid to work with animals is just perfect for me.Although I mostly do pet sitting ,which includes 2-3 daily walks - I don't have many dog walking jobs. So i am looking for people who need a dog walker. Ideally this would be paid - however if it is an elderly/housebound person then I am willing to walk their dog(s) as a way of helping them. I know some people as they become older or housebound , they feel they are left with no choice but to give up their much loved family pet but, with people like me around who are willing to help with feeding, walking, bathing & even claw clipping - their dogs needs will continue to be met & the owner will also be able to keep them. If you have anyone whom you know of who is looking for help then please do not hesitate to contact me. Many thanks CJ
None of the sites I look at tell me if there is a place that offers assistance to senior citizens for getting a dog's nails clipped. We can't do it because the dogs fight too hard and we can't hold them down, and we can't afford to pay to have it done. Can anyone offer any help in this area?? Please, we are desperate. We don't want to have to give up the dogs, and we can't just let the nails grow until they hurt the dog to walk.
mom247
- 12-Oct-11 @ 7:13 PM